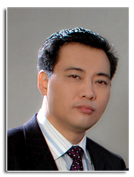 Dr. Ling Zheng, L. AC.



Testimonials


Atopic Eczema
Dear Dr. Zheng,
I highly appreciate you to cure my son's skin disease successfully.
My son had suffered from atopic eczema for 6 years since he was 6-month-old. It happened at his face and neck areas, then spread to arms and knees as well as other parts of body. He used to be seen by many dermatologists and allergy specialists, and used different steroid creams which relieve his symptoms temporarily only. After stopping those steroid creams, he felt itching and scratched again. We almost gave up seeing doctors because we worry about the side-effects of those steroid creams.
One of my friends told me that you had cured her atopic dermatitis successfully with Chinese herbal medicine. She suggested me to bring my son to visit you. At beginning, I was wondering if Chinese herbs work for my son's skin condition or not, since I had no idea about Chinese herbs. It is amazing that my son's symptoms were relieved greatly after taking herbs for three weeks. His skin became smooth and his itching symptom had gone completely after taking your treatment for four months. He has not complained of skin itching any more for two years. It is wonderful!
We have moved back to Tokyo now. I would like to share the experience to other people who have similar health problems as my son. Thanks for your help!
Best Regards,
Yuki H. Tokyo, Japan November 13, 2009
Atopic Eczema
Dear Dr. Zheng,
Thank you to treat for my atopic eczema. The skin problem bothered me for more than 30 years has been cured completely after taking your herbs and acupuncture for 6 months. It is amazing!
As you know, I had suffered from atopic eczema when I was a child. I felt itching all over of my body, especially on my face, scalp, neck, elbow, wrist, and knee areas. I scratched every minute and could sleep in night because of itching. I used to take antihistamines and use steroid creams for controlling my symptoms temporarily. But it had never been cured. The chronic health problem made me stress and depress.
Since my medical education background, I didn't believe that Chinese herbs and acupuncture would be helpful for my skin condition when my patient introduced you to me. My wife made me visit you since she don't want me keeping on using steroid cream. I was surprised that your herbs and acupuncture work so effectively for atopic dermatitis. I would like to share my personal experience with my colleagues and patients, and will refer my patients and friends who have similar problems to you.
Joseph K. MD, New York May 8, 2008
Knee Osteoarthritis
I am a retired teacher, and had suffered from left knee osteoarthritis for 7 years. I felt severe knee pain while walking, and the symptom was worsened gradually. My orthopedic surgeon suggested me to replace my left knee joint, a few months ago. But I was told that acupuncture is helpful for osteoarthritis, and decided to try it.
After accepting 8 sessions of electro-acupuncture treatment in Dr. Zheng's office, my knee pain has been diminished from an 8 to a 2-3 on a scale of 1 to 10. I may walk for 20 minutes easily and play golf right now. I don't need to replace my knee joint as my left knee has become much more mobile and less painful.
I highly appreciate Dr. Zheng for his wonderful jobs!
Jennifer W. New Jersey October 11, 2008
Sciatica
I would like to share my experience with other people who suffer from sciatica. I stained my lumbar while playing tennis in March 2007. I felt severe low back pain radiated to my hips and right leg. MRI showed that there disc herniation between L4 and L5. I took pain killers and physical therapy for more 3 months, but didn't help. My symptoms were worsened gradually and I felt tingling on my right leg. Finally, my primary care physician referred me to see Dr. Zheng for acupuncture. After taking acupuncture twice per week for 2 weeks, my low back and right leg pain was relieved greatly, but still felt tingling on my right leg. After re-evaluating, Dr. Zheng treated for me with electro-acupuncture and acupressure, and cured my sciatic pain completely.
Acupuncture is amazing to treat for sciatica. Hopefully, it will be covered by health insurance.
Michael B. New York January 4, 2009
PMS, Painful Period, Endometriosis and Polycystic Ovary
I want to thank Dr. Zheng to cure my menstruation problem. I suffered from polycystic ovary and endometriosis for many years. I felt severe lower abdominal pain and heavy bleeding during my period. I was told by doctor that I might need surgery to remove my endometriosis and cysts in my pelvis. I didn't want to do it because I am so young. After doing my own research on internet, I found that acupuncture and Chinese herbal medicine was an alternative option.
Dr. Zheng not only treats for my period pain, but also makes my period less heavy. Since I took acupuncture in his clinic, my menstruation has become regularly. I highly recommend him to everyone.
Tina L. New York October 17, 2007
Shoulder Pain
I strained my right should while playing golf five weeks ago. I went to see a physical therapist for 6 sessions, this didn't help. I could lift up my right arm over head and felt pain while putting on my clothes. After taking the first session of acupuncture treatment at Dr. Zheng's office, my shoulder pain went away 70%. My symptoms were relieved completely with three sessions of acupuncture. Acupuncture is so amazing for pain management. I highly recommend it to everyone.
Yokiko T.

New York

February 8, 2010
Other Conditions Commonly Treated by Dr. Zheng
Hot flashes, menopause, PMS, irregular menstruation
Stress, depression, anxiety, insomnia, fatigue
Hey-fever, sinusitis, asthma, bronchitis
Infertility, impotence
Dizziness, vertigo, Meniere's disease
Hypertension, diabetes, obesity
Stroke, paralysis, Bell's palsy
Indigestion, diarrhea, constipation
Quitting smoking, beauty & rejuvenation
SPECIAL SERVICES
We offer free initial consultation
We accept health insurance plans which cover for acupuncture treatment. We may contact your insurance company to verify your acupuncture benefits. If you need us to do so, please tell us your insurance information including your full name, birthday,insurance ID number, and insurance company's Tel. number.